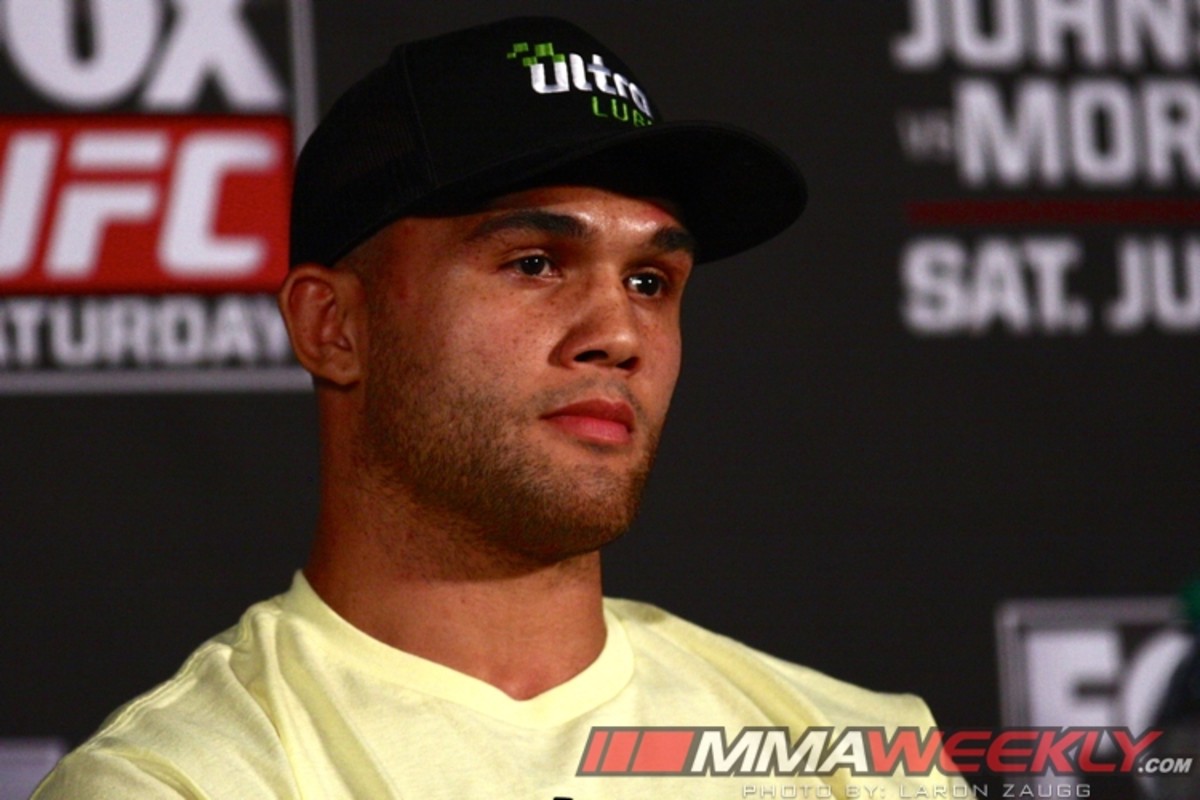 Source
The Washington State Department of Licensing on Tuesday released the UFC on Fox 8: Johnson vs. Moraga fighter salaries to MMAWeekly.com.
UFC flyweight champion Demetrious Johnson defended his belt in the night's main event, submitting John Moraga late in the fight.
UFC on Fox 8 took place Saturday, July 27, at the KeyArena in Seattle.
The total UFC on Fox 8 payroll of $850,000 was greater than the $700,081 in revenue that ticket sales generated.
The following figures are based on the fighter salary information that promoters are required by law to submit to the state athletic commissions, including the winners' bonuses.
Although mixed martial arts fighters do not have collective bargaining or a union, the fighters' salaries are still public record, just as with every other major sport in the United States. Any undisclosed bonuses that a promoter also pays its fighters, but does not disclose to the athletic commissions (specifically, pay-per-view bonuses, fight of the night bonuses, etc.), are not included in the figures below.
UFC on Fox 8 Fighter Salaries
Daron Cruickshank: $20,000 (includes $10,000 win bonus)
def. Yves Edwards: $21,000
Ed Herman: $74,000 (includes $37,000 win bonus)
def. Trevor Smith: $8,000
Germaine de Randamie: $18,000 (includes $9,000 win bonus)
def. Julie Kedzie: $9,000
Justin Salas: $16,000 (includes $8,000 win bonus)
def. Aaron Riley: $14,000
Yaotzin Meza: $20,000 (includes $10,000 win bonus)
def. John Albert: $10,000
Demetrious Johnson: $58,000 (includes $29,000 win bonus)
def. John Moraga: $17,000
Rory MacDonald: $48,000 (includes $24,000 win bonus)
def. Jake Ellenberger: $52,000
Robbie Lawler: $156,000 (includes $78,000 win bonus)
def. Bobby Voelker: $12,000
Liz Carmouche: $24,000 (includes $12,000 win bonus)
def. Jessica Andrade: $8,000
Jorge Masvidal: $66,000 (includes $33,000 win bonus)
def. Michael Chiesa: $15,000
Danny Castillo: $58,000 (includes $29,000 win bonus)
def. Tim Means: $12,000
Melvin Guillard: $84,000 (includes $42,000 win bonus)
def. Mac Danzig: $30,000